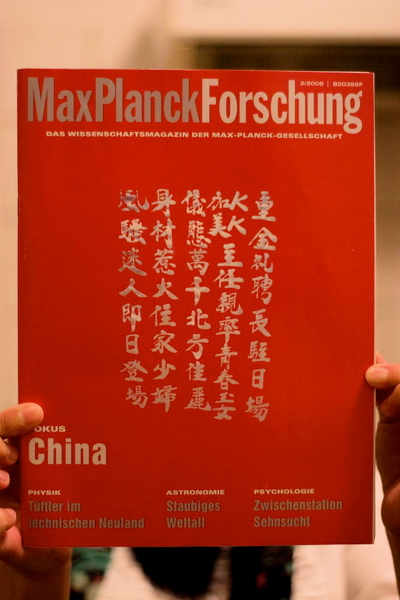 重金禮聘長駐日場
加美KK主任親率青春玉女
儀態萬千北方佳麗
身材惹火住家少婦
風騷迷人即日登場

Max-Planck-Institute(德文為Max-Planck-Gesellschaft;MPG)最近出了大糗。這張照片就是最近會內期刊的封面。是以中國為主的專題報導,但是居然放上類似酒店舞廳的情色廣告,被發現後才把英文版的封面換掉,但是德文版已經付印,而且都送出去了。一整個非常好笑。Max-Planck-Institute 是德國類似台灣中研院,或是中國中科院的國家研究機構,會丟這樣的臉實在是有點誇張。於是,在第一時間內,他們發了電子郵件給說漢語的研究人員道歉:
Dear Colleagues,
The cover of the most recent German-language edition of Max Planck Forschung (3/2008) depicts a Chinese text which had been chosen by our editorial office in order to symbolically illustrate the magazine's focus on "China". Unfortunately, it has now transpired that this text contains inappropriate content of a suggestive nature. Prior to publication, the editorial office had consulted a German sinologist for a translation of the relevant text. The sinologist concluded that the text in question depicted classical Chinese characters in an non-controversial context. To our sincere regret, however, it has now emerged that the text contains deeper levels of meaning, which are not immediately accessible to a non-native speaker.
By publishing this text we did in no way intend to cause any offence or embarrassment to our Chinese readers. The editors of MaxPlanckResearch sincerely regret this unfortunate error and would like to offer an unreserved apology to all of their Chinese readers for any upset or distress they may have caused.
The cover title has already been substituted in the online edition, and the English version of Max Planck Forschung (Max Planck Research, 4/2008) will be published with a different title.
We would ask you to forward this information to all Chinese scientists at your Institute. Please find attached the new version of the title. Perhaps you can distribute this print-out within your institute.
但是這封道歉信其實只有英文版,而且只發給各所裡會說漢語的人。因此大部分德國人或是其他國家的人都不曉得這件事。不過這個封面在中國引起網民熱烈討論,沒想到上星期上了德國各大報紙媒體的版面,迫使Max-Planck-Institute做出更正式的道歉。總之實在太好笑了,根據消息指出,Max-Planck-Institute詢問的那個女漢學家,只不過是個會說漢語的學生。還說每個字都沒問題,但連在一起才有色情的暗示。這不是廢話嗎,語言本來就是要看上下文的,單字本身的意義跟句子一定有些不同。這也告訴我們,語言不通真的是可以鬧出大笑話的。現在加美KK變成google上查詢率很高的辭彙,應該是指兩位媽媽桑,加美媽媽桑跟KK媽媽桑這樣。不過因為後來鬧的太大了,所以這版要全面回收,我只好先拿了幾本當紀念。大家聖誕快樂,新年快樂。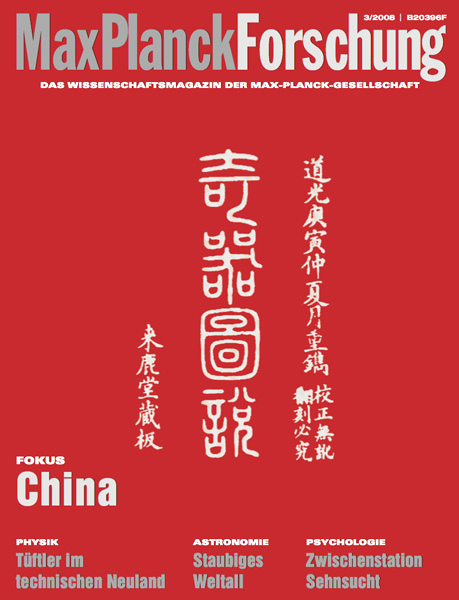 新改的封面